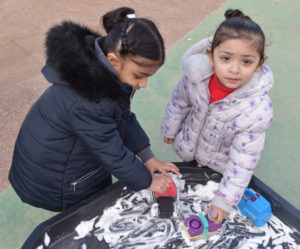 The Nursery is an independent childcare centre in Coventry. We are open Monday to Friday from 8am to 6pm.
We are part of Valley House, a trusted local organisation that supports families and individuals in Coventry and the surrounding areas.
Why choose us?
The Nursery provides a friendly, welcoming and safe environment for your child, ensuring they feel relaxed and happy whilst being cared for by our experienced team.
We accept children from six weeks to five years old. We offer a flexible settling in period to ensure a smooth transition for both child and parent!
"My son loves coming here. His speech and confidence have greatly improved since he started attending." Happy parent.
Learning through play
Our qualified staff are passionate about providing the best opportunities for children to learn, play and have fun!
We have a wide range of play and learning resources for your child to enjoy. Our experienced team will help your child use these resources to develop new skill, increase their confidence and achieve their learning goals. We believe that learning should be both fun and child-lead, we shape our learning activities using the preferences of each child.
Diversity
We value diversity. Our staff team reflects and represents the diverse, cultural community of Coventry and the families who use our services. Everyone is welcome at The Nursery.
Costs
Children under three: £41 per full day, £25.40 per half day, £195 per full week.
Children three years and older: £38 per full day, £23.60 per half day, £180 per full week.
There is a £20 registration fee for joining the Nursery.
Funded places are from 9am to 12pm and 12.30pm until 3.30pm. These hours are flexible depending on availability.
Pop-up Crèche Facilities
We are pleased to offer pop-up crèche facilities to organisations and businesses in Coventry. Please contact us for more information on this service.
Keep up to date with The Nursery
Follow our page on Facebook to keep up to date with all the weekly learning and activities taking place.
https://www.facebook.com/TheNurseryAtValleyHouse/
Contact us: 02476 266 280 or email nursery@valleyhouse.org.uk